NEWS

April 4, 2018

Tonight @ Stans (NW)

Pillow Song presents West Village Wednesday

"A Tribute to Joni Mitchell"

hosted by Sebastian Schwarz & Sarah Bowman

feat.

Linah Rocio

,

guest on guitar and backings

Lindamara

For more info, see

concerts

, or

Love and all the best,

Lindamara

Photo (download in L) by Steffen Hüttner
---
January 31, 2018
Back again...
Many of you have been asking when I/we will be playing again, and the answer is: soon, dear friends!
The past year has been strenuous in our professional and private lives, and we're about to see the outcomes of our hard work.
Stay tuned with us!
Love and all the best,
Lindamara
---
January 1, 2017
Support for album release on Friday January 27, 2017
Linah Rocio
- Warrior Talk (album release party)
Support:
Lindamara
Doors: 9 pm
Shows: 9:30 pm
Entry: 15 / 12 Fr.

(event details)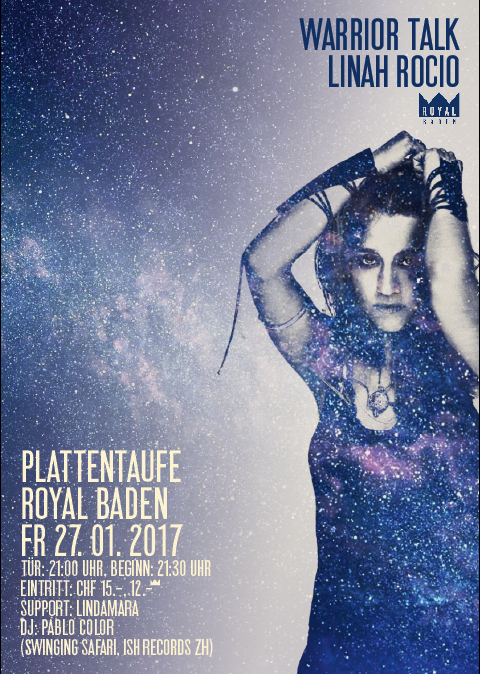 Linah Rocio - Warrior Talk
(review by Beehive Candy)
Linah Rocio - Warrior Talk
(background info about album)
We're looking forward to seeing you!
Have a very happy New Year!
Love and all the best,
Lindamara
For more info, see
concerts
...
---
July 1, 2016
MYSTIC NIGHT @ BADI VILLIGEN
Open-air with barbeque by the pool
Dead Venus
Lindamara
FREE ENTRY! (collection)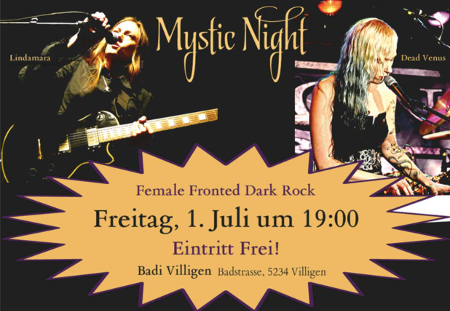 To bring:
Family and friends
Bathing suit
Wallet (collection, etc.)
Awesome weather
MOSQUITO REPELLENT
We're looking forward to seeing you!
Love and all the best,
Lindamara
For more info, see
concerts
...
---
---
---
December 31, 2015
Sylvester Music Dinner 2015
with
Covers On Two Chairs feat. Lindamara (solo)
Restaurant Central
(Google Maps)
Oberdorfstrasse 2
5607 Hägglingen (AG)
FREE ENTRY. (collection and consummation)
Reservations: 056 544 42 42
Bar open until 2 o'clock.
For shuttle-taxi towards Othmarsingen / Lenzburg / Wohlen
advance reservation required.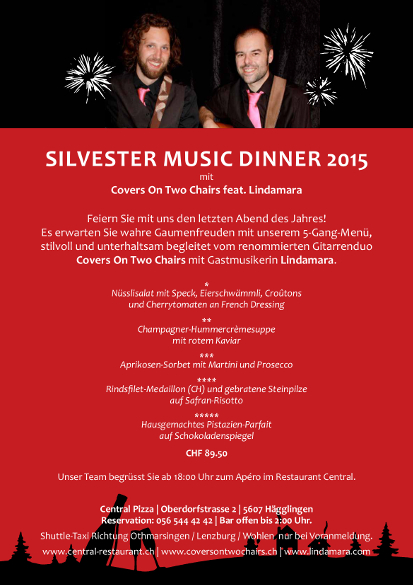 ---
---
---
June 5, 2015
THE BIRTH OF A STAGE NAME
It was a long search. I've found a stage name for me as a solo artist as well as for my band that has been approved by the band:
I am / we are LINDAMARA.
---
May 6, 2015
Album "Freedom Inside"
Together with sound engineer, Tom Dick, we have recorded and mixed my rockband-album in collective collaboration from January 2014 until March 2015 (everytime we had spare time to work).
As you know, we originally first wanted to release it as a demo and re-record it in a bigger studio afterwards. Now, we have decided to progress and thus finish and release our honest, hopefully touching and very well processed work of art.
Still, it's going to take a little while until the final release on CD and LP. Just as announced earlier, the entire artwork is just about to be painted by Barbara Maria (Barry) Schwarz, in tune with lyrics and CD-/LP-formats. Maybe you already had the chance to get a glimpse of the wonderful
cover picture
Barry has created.
Right now, the album is in its mastering process engineered by
Raphael Aguiar
. We're looking forward to the ultimate result. For manufacturing we already have gotten in touch with
Flight 13 Duplication
. As we enter uncharted waters in the world of vinyl manufacturing, we are truly very thankful for professional and kind support from the members of Flight 13.
A lot of final creation lies ahead of us...
Probably, you giddily await the fruits of our work, so do we!
Love and all the best, also in the name of our band,
Linda Kratky
---
March 4, 2015
Thank you very much
...to all the people who could join us at "Musik Dinner" at
Restaurant Bouillon
in Baden yesterday! Also special thanks to all the staff at Bouillon for inviting me to play, wonderful dinner menus, and awesome support of the musicians!
The set that I played yesterday follows here just as promised:
Skunk Anansie - Pickin' On Me
Lindamara - Guardians
Elliott Smith - Between The Bars
4 Non Blondes - Drifting
Bill Withers - Ain't No Sunshine
The Cranberries - Empty
Radiohead - Street Spirit
Lindamara - Shine
Anneke van Giersbergen (The Gathering) - Locked Away
Metallica - Nothing Else Matters
4 Non Blondes - What's Up
Ingrid Michaelson - Keep Breathing
Alanis Morissette - No Pressure Over Cappuccino
Lindamara - Dream
Led Zeppelin - Stairway To Heaven
Anonymous - Spanische Romanze
Lindamara - Save My Smile
Love and all the best,
Linda Kratky
---
March 2, 2015
MAKE A RESERVATION TODAY - GO OUT FOR DINNER TOMORROW
with acoustic DINNER MUSIC by LINDA KRATKY in Baden.
"Macht die Badener Singer-Songwriterin und Gitarristin nicht laute Rockmusik? – Eben, nicht nur. Als Solokünstlerin verbindet Linda ihre Liebe zur klassischen Musik geschickt mit ihrer Leidenschaft für Rock. Mit viel Taktgefühl setzt sie ihre kraftvolle und berührende Stimme ein, um ihr Publikum lyrisch in ihre musikalische Welt zu begleiten und sanft wach zu rütteln." (German description only)
reservationbouillonrestaurant
Reservations are limited.
For reservations by phone, call: +41 (0)56 222 38 60
Love and all the best,
Linda Kratky
concert schedule
---
January 1, 2014
Hello everyone!
We wish you a very happy New Year from the bottom of our hearts!
We have not scheduled any concerts with our full band at the time, but we're working even on a full-length album instead of an EP. We have decided to change its title accordingly.
The album "Freedom Inside" and the single "Shine" will be available on CD as well as on LP.
We are very happy to have Barry Schwarz on our team for the artwork. We can reveal as much as that: Barry's drafts are breath-takingly beautiful and motivate us enormously!
We'll keep you posted...
Love and all the best,
Linda Kratky
---
September 12, 2013 (Part I)
Hello everyone!
The leaves have started falling here in Europe, and I hope you enjoy the weather wherever you are.
We are in full preparation for the upcoming production of our EP "Collective Creator" that is planned to be officially released in 2014.
Of course, we still keep playing live. More about it in our
concert schedule
...
Love and all the best,
Linda Kratky
---
September 12, 2013 (Part II)
---
May 21, 2013
'Linda Kratky Project' goes 'Linda Kratky'
Why? - Because we like KISSing (keep it short and simple). :-)
...and we are happy to announce a new band member joining our crew:
* ROMAN GFELLER *
See
band
...
(Some of you might know that Roman played as a bassist in the very first band 'Dissident' (1996 ñ 2000), that I co-founded with drummer Nadja Wohler (Ü August 10, 2012). May 'Nansch' rest in peace and may her great spirit be with us on our musical journey.)
Also, don't miss out on a news report on Troubadix Singer-Songwriter Festival:
Aargauer Zeitung: Wie ´Troubadixª gesungen, aber nicht gefesselt und nicht geknebelt
---
---
April 28, 2013
---
March 11, 2013
There is nothing more healing than authentic music.
---
January 4, 2013
Hello everyone!
We wish you a very happy New Year!
Love and all the best,
Linda Kratky
---
July 10, 2012
Hello everyone!
Have a great summer time!!!
Love and all the best,
Linda Kratky
---
---
March 7, 2012
Hello everyone!
This is the the very first web site that I started to create on my own. I'm a very beginner (autodidact) in web design and hosting. In the first place, it's all about information that I'd like to present to my audience and my friends; in the second place, it's about creativity and being part of the process of this little web art. Sure, there is more to come such as picture galleries and music files.
Enjoy your stay on my site! Any good feedback is welcome:
contact form
. Thanks for your visit!
Love and all the best,
Linda Kratky
---
January 1, 2012